Looking for a hospital television?
The people at TB&A are Hospital TV experts. We provide commercial and hospital grade televisions, television mounts, television equipment, patient education systems and more, to hospitals and healthcare organizations. Contact TB&A today to save time and money for all your hospital television needs.
NOW FEATURING ONLINE ORDERING!
Note: GPOs and purchases on contract, please call us at 1-800-288-7351 for pricing and purchasing details.
---
TB&A Hospital TV News
TB&A's Eugenio Matos Jr. (Junior) has been designated Supplier Technician Of The Year 2018 by Roswell Park
We are happy to announce that TB&A employee Eugenio Matos Jr. (Junior) has been named as Supplier Technician Of The Year 2018 by the Clinical Care Equipment department of Roswell Park Comprehensive Cancer Center.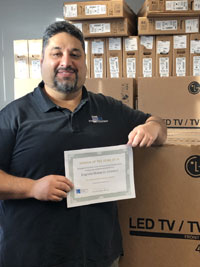 Junior was presented with a certificate.
Timothy Schmidt, Director Clinical Care Equipment stated, "Junior has provided excellent support and service for our patients and TV systems for the past several years. He has received several compliments from nursing and other staff, and consistently demonstrates the values, dedication, and qualities we expect from our suppliers."

<!- end tba-news-left ->
LG's 55" Hospital Grade Television
LG introduced the addition of a 55" Hospital Grade TV to it's UV770M Series.
Product Specs:
Model number 55UV770M
Pro:Centric Smart
Includes b-Lan
Includes WebRTC
Includes Commercial Smart Apps
Click here for more info.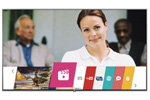 We at TB&A are excited to be a part of Herd of Hope, which supports cancer research at Roswell Park.
The Herd continues to grow with more than 100 local businesses taking action in the fight against cancer. Learn more or join the Herd at www.herdofhope.org and follow on Twitter at #herdofhope.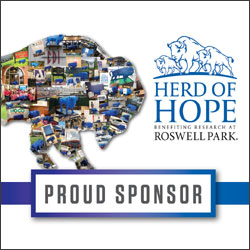 ---
TB&A is proud to serve these and other leading organizations. Click here for more information.






Our monthly newsletter features product spotlights, promotions and more.
SIGN UP NOW >
---
Featured Products Available Online